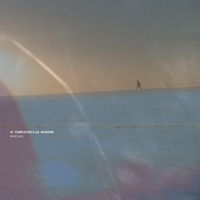 The composed crystalline contortions and celestial atmospheres that flared up during Standing on a Hummingbird, sound artist Mark Templeton's fist foray, though by no means defunct, come subsequent and secondary to the breezy technicolor stroll that animates both the audio and visual sides of this, his recent collaborative work with Aaron Munson.
The offerings here are all laidback breaks, winsome melodies and shimmering, long-held analogue chords, undemanding, maybe, but not without a certain appeal, or, indeed, a faint rasp of DIY attitude. As Templeton thus beautifully integrates electronic and acoustic resources across the full soundstage, he manages a fine balance of toughness against melodic approachability and weightless aplomb. There is something lissom about these recordings, as they conjure luminous open spaces out of both loosely-knit, shivering fragments and fraught periods of stasis.
In this Templeton sensitively and imaginatively touches upon the security, intimacy, and adventure that colors the Canadian winter. The lazy bugling of the kitchen inhabits "1 Is To One As". The calm mumbling of utensils and dripping faucets, which peal alongside unadorned acoustic guitar plucking, makes one believe in happiness, at least until the track takes an effective turn towards a dark insularity, where the guitar's become waspish and the atmospheres turn pale and pensive.
The rest of the work holds up – though, admittedly, just barely – as a collage of various themes. Crisply hypnotic guitar patterns and dazed textures, subtly varispeeded to create a woozy, aged atmosphere, blur with bursts of noise and swirling calliopes on "This Will Pass". Paired with Munson's subtle, brain-bending use of layered visuals, the work does open up some intriguing connections between the various signatures of intimacy and isolation. As true as it is that the work often seems to lack architectural purpose, pieces such as the aforementioned track, together with the slow evolution of "Looking Northward" and the stillness of "Safer", do form a triptych where things make sense. Templeton has taken an enriching step beyond the formula laid out on his first effort, and he'll hopefully continue to test and refine it with time.
Max Schaefer