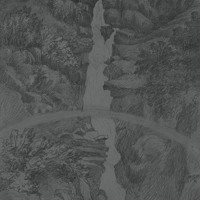 Californian sound artist, composer and filmmaker John Davis' new five track album Ask The Dust came out mid-October on San Diego imprint Students of Decay. Davis' musical output is heavily interdependent on his work in experimental film, explorations of nature and live improvisations. His resulting soundworld feels incredibly organic, even though it is mostly made with modular synthesis, granulated digital audio, heavily manipulated instruments and processed field recordings.
The five tracks of Ask The Dust see John Davis to exploring five different approaches to composition. Opener "Superpartner' is an epic 11:44 soundscape with a bit of every part of his sonic palette thrown in; e-Bowed strings, captured atmospheres, big synth sweeps and digital percussion. Underlying it all is a harmonic structure that he' managed to coax out of the material, unifying the elements.
"Joy Meridian' is built over a rich oscillating pad pedal while a distorted synth part sings like a mad bagpipe while having its harmonics relentlessly glissando-ed with a filter and probably a flanger. "Palestrina', built from waves of sparkling synth and manipulated samples in multiple voices may or may not be aspiring to the 16th century composer' dazzling command of polyphony.
The solo piano piece "Synecdoche' is almost jarring in its simplicity. It seems to be made with more than one pass, and I sense there' some aleatoric component, such as recording the second take without listening to the first. It's stark, beautiful and shockingly conventional in the context of the album.
Closer "Julian Wind' brings back the texture of field recordings, a toned down synth-as-mad-bagpipe and a feeling of jamming with the wind. It fades us out slowly, with a vinyl recording of a regressive hypnosis session asking a distressed subject "Did you like where you were? Was it better than your life on Earth?". She didn' – it's a jarring sentiment after being lulled so sweetly by dubbed-out windchimes.