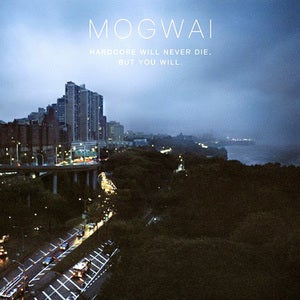 It's probably not the type of thing I should be confessing as a self-respecting review writer for an esteemed publication such as Cyclic Defrost but, well, here it is – before receiving this album to review, I'd never consciously heard a Mogwai track before (eds – ZOMG!) . Yes, I'd read lots about them, heard about the legendary noise-sludge-ecstacy of their live shows, understood the esteem they've been granted as single-minded, trend oblivious artistes. I'd just never actually crossed paths with any of their recordings.
But look on the bright side – you are about to read a review of a Mogwai album unencumbered by the reviewer's thoughts on previous Mogwai albums and whether or not this one stands up in the light of the canon. When was the last time you were able to do that?
My first thoughts were positive. Sort of reminiscent of early 90s shoe-gaze – the real, guitar process with robust rhythm sections stuff, not the current wallpaper synth stuff – but with a bit more grunt. 'Rano Pano' does it all well – every guitar string from the bass' bottom E to the electric's top E fuzzed with analogue grit rather than digital sheen. Even the keyboard feels the wrath of the overdrive and the triplet drum rolls put me back in early-Ride heaven (the best of the best when it comes to first/second-wave shoegaze). The only things missing are the soaring vocals. But once I get my head around the idea of this type of music, without singing, there's much more to find to hold my attention. The only track to feature actual singing (aside from 'George Square Thatcher Death Party's buried, vocoderised scrawl) is 'Mexican Grand Prix' which starts off as a nice Stereolab kind of thing and then Stuart Braithwaite adds his monotone, the vocoder in the chorus pointing back to the krautrock from which this type of music was birthed.
There are obvious post-rock-isms across the album, particularly in mellower moments like 'Death Rays' and 'Too Raging To Tears' (which comes complete with cello interludes), but what sets Mogwai apart from that pack is the variety across the album. For every moment of reverb drenched aching, there's another direct, propulsive blast such as 'San Pedro' or the squealing guitar/synth/sample interplay of the aforementioned 'George Square Thatcher Death Party'. And the sheer lava thickness of the guitar distortion is continually compelling, especially as it is used to spray such melodically driven harmonic structures, rather than remain noise for noise' sake. Only the climactic moments of 'You're Lionel Ritchie' approaches metal-lic bombast – everywhere else bigness and distortion is used as warm texture.
So, what did I think of my first taste of Mogwai? I quite enjoyed it. Knowing their history, I can hear the influence they've had on others, and I can also hear how they uphold a place within a continuum which is sadly being diluted by recent trendiness in some underground quarters. But Mogwai's ability to balance light and shade, melody and texture within an almost completely instrumental framework sets them well above those around them. This is music that could never be content to fade into the background. It continually demands, and rewards, your attention.
Adrian Elmer