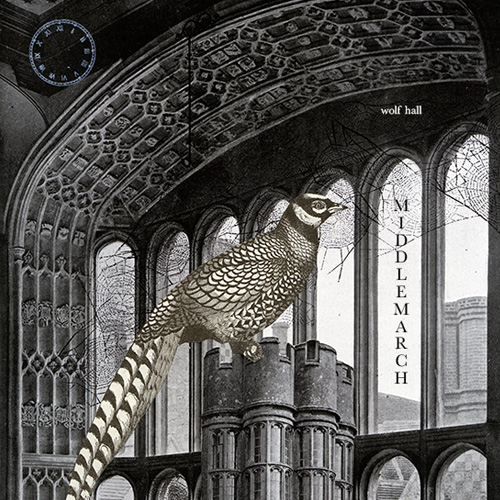 Wolf Hall is the debut release from Middlemarch on the relatively new and certainly interesting label, Time Released Sound. Middlemarch is the duo project of Dimitris Avramidis on piano and Ross Baker on electronics. The album length Wolf Hall is based on the Hilary Mantel novel of the same name, which delves into the Tudor era lives of Oliver Cromwell, King Henry VIII and their contemporaries.
Middlemarch' modus operandi is treated piano with varieties of shifting ambience and found sounds. The opening track, "The Dead Complain of Their Burial', is based around a minor key motif that recirculates in a loose kind of rondo. Baker provides a drone that slowly builds throughout the piece alongside ominous birdsong. The piano timbre is worth noting, slightly detuned and placed within a long reverb. This melancholy voice remains for much of the album.
"The Black Book' spins its theme through a series of sequences and modulations in a Glass-meets-Beethoven fashion. "Crows' frees up Avramidis to unfurl stream of consciousness arpeggios.
Throughout the album the electronics and piano share equal billing. Baker provides a glitchy sonic wallpaper on "Spoils' whilst creating a sparkling ambience during "A Painter' Eye'. I suspect at least some of the ambience is created from treatment of the piano itself. "Master of Phantoms' juxtaposes reversed textures against the found sounds of a bubbling brook, church bells and more birds; chirping happily this time around. The piano is mildly distorted during the opening strains of "Across the Narrow Sea' and gradually disintegrates into a heap of fuzz. This marks the most aggressive treatment of the instrument and is not dissimilar to some of the material found on Gideon Wolf's excellent album Diagram, (also recently released on Time Released Sound and reviewed by Cyclic Defrost).
Middlemarch have done well to produce an album with a cohesive voice, yet still enough twists to hold the listener. Not having read the novel that informed the album I can't vouch for the links between the two works. Nonetheless, the album stands on it's own merits very comfortably.
Like many of the Time Released Sound releases Wolf Hall is available with an intricately hand crafted case and artwork at a premium price (which often sell out), as well as more conventional formats.
Matt Wakeling