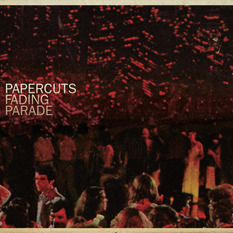 In the past, Papercuts – the project of San Francisco native Jason Quever – has often operated as a folkier alternative to tour-mates such as Beach House and Grizzly Bear. Although he still shares some influences with these two (mainly psychedelic music from the 1960s), over the course of his previous album You Can Have What You Want and now Fading Parade, Quever's music has become more and more (dream) pop-minded.
Listened to over the course of tired morning bus rides into work, it turned out to be a great soundtrack to the hazy and drained state of mind, not least of all due to the atmospheric, gentle and reverb-laden production (done together with Thom Monahan) that quite often recalls the Spector Wall of Sound. This is an album that I certainly felt comfortable with very quickly, and one that will be familiar for anyone who has had a passing interest in American indie-pop over the last few years, with soaring guitars, softly sung vocals and some tasteful autoharp at times. Certainly, this is very pretty music – in terms of their contemporaries, I hear equal parts Belle and Sebastian and Beach House, with a rockier edge. While it tended to wash over me upon the first couple of listens, this album's surprisingly strong melodies and harmonies and simple arrangements revealed themselves slowly, with many of the songs seeping in and sticking in my head and staying there for days.
Lyrically, Fading Parade is pretty introverted. Quever writes lyrics that certainly fit in with the production style, with stories that are written from the point of view of an uncertain and almost passive narrator, but are nonetheless an interesting accompaniment and reflection of the music being played. The stories generally deal with the everyday, and are almost written entirely about characters and moments that deal with alienation and loneliness, with Quever sometimes moving into more otherworldly imagery to disarming effect.
With highlights including the immediate opener 'Do You Really Wanna Know', and the heart breaking slow-burner "See You Later I Guess", Quever clearly wants to be a source of comfort for the listener. However, this quest for providing a gentle atmosphere also tends to produce tracks that come off as inoffensive and safe such as "White Are The Waves" and "The Messenger". These two songs in particular lack strong song structures, washing over you unless you're really in the right mood.
Don't be mistaken though, Fading Parade is still a very pretty and a very enjoyable record. Given the (relatively) recent success of his peers, the evolution he has shown with each of his albums, and how comfortable he and his band sound together here, I'm sure that Quever will only create more rewarding listens that garner both commercial and critical acclaim in the future.
Wyatt Lawton-Masi