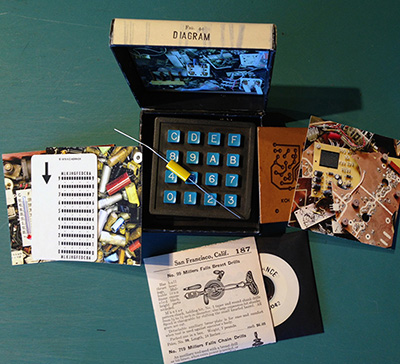 Tristan Shorr continues to display his compositional chops as Gideon Wolf on Diagram, the final release of the "chocolate box" series from bespoke art label Time Released Sound. The four tracks clock in at twenty minutes and the three-inch CD that houses them is packaged in a characteristically elaborate container made of vintage electronics, circuit boards, tubes, transistors and switches. TRS charge a premium for their extraordinarily detailed packaging; one of the limited sixty-five edition copies will set you back (with shipping) the best part of one hundred dollars. The dedication to presentation is commendable, with the recipients of their products receiving art pieces that verge on being gallery items.
The components are rated as electronically treated piano, giving them the impression of being light and twinkly, but all are energetic and substantive – "Line' being a case in point. The standout is the title track, a seven-minute vertical Kubrick event horizon that is equal parts Nils Frahm and Oren Ambarchi.
That unexpected duality is their undoubted strong point; getting glossy instrumentation and abrasive industrial texture to sit cohesively is hard to get right. A mix of portfolio-level physical art and high-level sound design, Diagram is something of an event for aesthetes drawn to challenging audio.
Charlie Sage