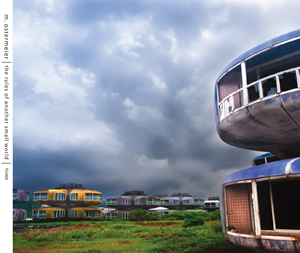 The first thing i thought when i looked at the digipak of M. Ostermeier' Rules of Another Small World was "where the hell is that place? Is it even real?". If it is, I certainly wondered what it sounds like. Whether or not it was his intention, I certainly feels like this release could be the soundtrack to this dystopian looking locale: full of organic elements, yet strangely synthetic, and incredibly engaging.
Beginning with "Micro Forest Updraft', all of the elements are set in place. Gentle electric piano stumbles over it's melody, as rustling ticks of white noise flicker about like mechanical insects. Flourishes of synth chords dart around like erstwhile birds. "Streambed Arrangement's has a grand piano flowing in the same style as before, both loosely defining the melody and also moving around it. More electronics bubble away beneath and around it, crackling and fizzing. One of the strengths of this release is its precise compositional skill. Each piece is quick, concise, and to the point. There' no time wasted, but nothing is cut too short, which can be a common mistake. "I Took Out Your Picture' has it's synth bubbling away like a forest stream, as an easy piano motif loops atop. "Trickle Down' weaves and flickers around like a candle flame, as each piano bobs and twists about the other, blending into a aural tapestry. "Underwater Drifting' if perfectly titled, as it floats slowly in suspended animation, gently moving closer, then further away. "Suspicions' glows softly from beginning to end, gently punctuated at times by sparse piano notes and a swollen bass hum. Micro electronics fizz in the periphery. Closing out the edition is "Ngth', by far the longest piece at 5:27. The flapping of insect wings swing around the stereo field. Restrained instrumentation is used to great effect, as background noise fills out the piece before quickly disappearing behind an electric piano, which draws the edition softly closed.
I found this to be a brilliantly subtle album. The artwork is just as stunning as the audio it encloses, adorning pictures of the dramatically futuristic looking San-Zhr Pod Village in Taiwan. Aurally, it is both both sparse, and yet very engaging, thanks to the superposition of organic and synthetic source elements. Highly recommended.
Nick Giles