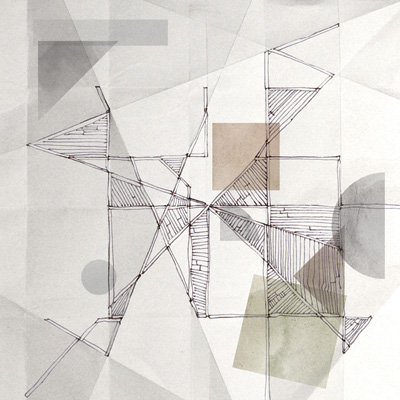 Ezekiel Honig's latest album is a gloriously captivating excursion through deep rhythmic structures, cataclysmic audio sequences and soft, melodic vibrations. Though these descriptors might seem ambiguous, perhaps even contradictory, Surfaces of a Broken Marching Band truly embraces them all. This release is a follow up to his 2006 effort Scattered Practices, and in that time Honig has continued to develop a distinct voice in his compositions.
The subterranean hum of 'Broken Marching Band' sets the tone for the rest of the piece, a gentle thud in and out providing the driving force behind the track. Influences are scattered here; there's the measured beats borrowed from more minimal tech sounds, and there's the diffused found sounds that are more characteristic of ambient experimental works. All in all, their fusion works due to Honig's understated production. It's the sort of delicate touch that brings names like Jan Jelinek and Max Richter to mind, in terms of how each track is carefully structured in relation to the album as a whole.
Surfaces of a Broken Marching Band is also, in a sense, a reflection upon the development of Honig's Anticipate label. 'Displacement's is the most straightforward in its connection to this theme, a gentle swathe of piano sitting astride an astringent hiss that keeps building, adding layer on layer to the sound but never settling or climaxing. No other word but "hypnotic' can come to mind when attempting to describe the sensation matched to tracks like 'Porchside Economics'. There is a wealth of beauty invested in this album, and the payoff is incredibly rewarding. Superlatives they may be, but for all this praise, nothing can come close to describing just how amazing this release really is.